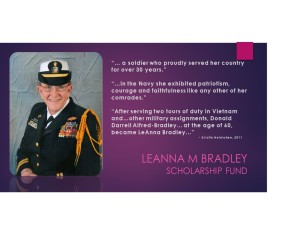 Links
About the LeAnna M Bradley Scholarship Fund
Peoria TransGender Society, in cooperation with the Acorn Equality Fund (AEF), is honored to sponsor the LeAnna Bradley Collegiate Scholarship. This scholarship is to be awarded annually to college-bound high school graduates identifying as transgender or gender non-binary with significant, demonstrable service to the LGBTQ community.
Established in 1999, AEF in Peoria is a 501(c)(3) grassroots nonprofit organization that provides financial support for the advancement of education, health, and civil rights of gay, lesbian, bisexual, and transgender persons and their allies. The Bradley Scholarship Fund will be managed and administered by AEF.
Throughout her life Leanna Bradley has exemplified service above self. Her thirty-year military service career in the U.S. Navy and continuing advocacy for LGBTQ rights in civilian life are evidenced by the numerous awards, medals and accolades afforded her. Transgender herself, Leanna endured countless struggles and overcame seemingly insurmountable obstacles to finally achieve the balance of mind, body and spirit transitioning at the age of 60. Home for Leanna is now Galesburg, IL where she resides with the love of her life Jamie Jansen.
The Leanna Bradley Scholarship will serve as a legacy to her life's work and as an example for its recipients while supporting their education with important financial assistance. PTGS will continue to raise funds annually in support of the scholarship and the vital work of our partners Acorn Equality Fund.